[First Published on 4th April 2017]
This 31-year-old lady retired her parents before they turned 50 years old.  As the news article is in Chinese, I sought help from Google Translate and here's the translated (with minor grammar corrections by me) version:
▲ 31-year-old Huang Yifan, the proudest thing is to let my parents retire before the age of 50 years ago.  Credits:  Reporter Chen Peiyi / Taipei
" I feel so happy now that I have retired my parents before the age of 50. " 31-year-old Huang Yifan, admitted to her rebellious past, where she gave up on her high paying job against her parents objections to pursue entrepreneurship in ECommerce.  Her persistence paid off; from making TWD 10,000 a month in the beginning to an annual income of TWD 6 million, and was able to retire her parents way in advance, no longer having to worry about the money.
Working with hundreds of business partners in her network, online business owner Huang Yifan is now a Director of SHOP.COM shopping platform. This year is her 10th year in this ECommerce business, and she recounted that it was the most rebellious period in life.  "Since young, I was an obedient child to my parents and teachers; I would do whatever they told me to do.  But during the period between 21 years old to 31 years old, this was my first rebellion" she said with a smile.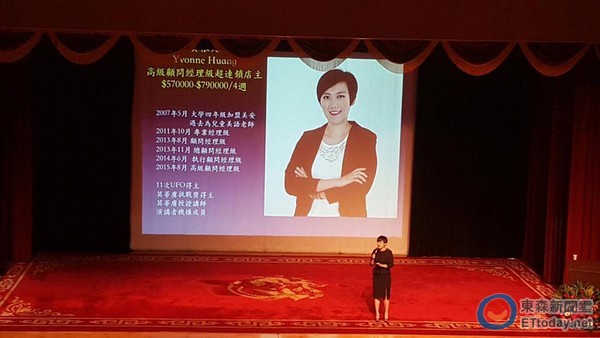 ▲ Huang Yifan is currently SHOP.COM online shopping platform's Director with hundreds of business partners in her network. (Images provided by Huang Yifan)
When she was 20 years old, Huang Yifan started working in a top-tier restaurant.  However, due to poor management, this restaurant was at the brink of collapse one year after she joined.  This incident became her motivation to evaluate online business model; "This restaurant owner felt that retail businesses (physical stores) are facing huge pressure for survival and wanted to explore online business, and they asked me to join them to build together.  Since I love to buy stuff, why not redirect my passion of buying onto an online business platform?
Huang Yifan did not think too much, and having a "YES WOMAN" character, she start her online business (part-time) that year at the age of 21. She still held on to a formal job while providing English tuition from Monday to Friday, five hours a day, bring home an income between TWD 30,000 to 40,000, "compared to most people's starting salary is considered high" she said.
At that time, Huang Yifan's parents did not support or oppose her online business venture, thinking it was just a spur of moment.  But when they found that she really focused on building it, conflicts occurred in a year later; "My tutoring boss said he had a friend in Manhattan, New York with a job vacancy for the role of an Assistant. This person should be fluent in Chinese and English, with 10 days break back in Taiwan for every 90 days of work in US, salary was US$3,000 monthly, he asked me if you want to go."
"US$3,000 was almost TWD 90,000 then and my mother was very excited as it was a rare opportunity.  I had mixed feelings about this role and this was when my sponsoring business partner (restaurant owner), Vincent said to me: "although you can not see the results now, it does not mean that there is no future in this online business.  I believe you will be able to earn at least 5 times more income in the future" shared Huang Yifan.
"I struggled for a week, and finally chose to give up on the overseas opportunity, I was lambasted by my mother for this, she said I was sick and being brainwashed.  But I just think my parents did not understand me, and i considered this my be late rebellious period." After part-timing for another 3 years, she found that her online business started to pick up and this was when she decided to quitted teaching tuition to go in to full-time entrepreneurship in her business.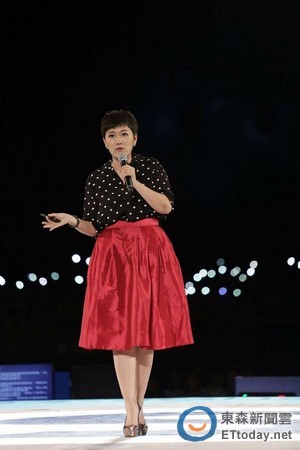 ▲ Huang Yifan was often invited tour the world, sharing her online business journey. (Image provided by Huang Yifan)
Huang Yifan said that the first four years in online business venture, there were no obvious results; basically she did not earn any money.  Income was unstable from her retailing, earning between TWD 1 to 2 million monthly, but  she did not want to give up.  "Because I feel that I was young, I have nothing to lose"  Things starts to pick up in year 5, when the number of business partners in my business grew to about 70 to 80 people, my monthly income from the business stabilised to approximately TWD 100,000 and my annual income broke over a million Taiwan dollars.
"All success will not be sudden." Huang Yifan said that her success from the fifth year was an accumulation of hard work from the previous four years, which we can not have foreseen.  Once the business foundation stabilised, Huang Yifan's income showed exponential growth; the seventh year annual income was TWD 300 million, and her tenth year annual income broke TWD 6 million.
Huang Yifan said that the most happy thing now is that i have retired my parents retire before the age of 50.  "My father's health has not been good, suffering cancer relapse twice; the first two times when he was diagnosed with cancer, he was very scared (financially) because my sister was still studying. The third time when his cancer recurred, my income has reached a level where i can retire him.  I told him that he needs rest and we are no longer financially dependent on his thirty thousand monthly income.  My father was finally encouraged to retire."
"My father's illness changed my life." Huang Yifan said: "I used to be like a character in Momoko Sakura, where everyday every day was carefree an \d untroubled, until my father had cancer , I found that that life is short, and my father will not be always there as our pillar of strength, who knows what will happen tomorrow, we may be defeated by a disease.
Huang Yifan said that after the improvement of her father's health, it is time for her parents to "enjoy life".  She said her mother never spent money on travels before the age of 50 because she felt it was too extravagant.  Now, after their retirement, they travel at least twice a year, visiting wherever they wanted.  Her mother also said that their goal is to enjoy as much as possible, and she said "This is my biggest source of happiness now."
If you are interested to read the original Chinese version, please visit this link: http://www.ettoday.net/news/20170404/897521.htm